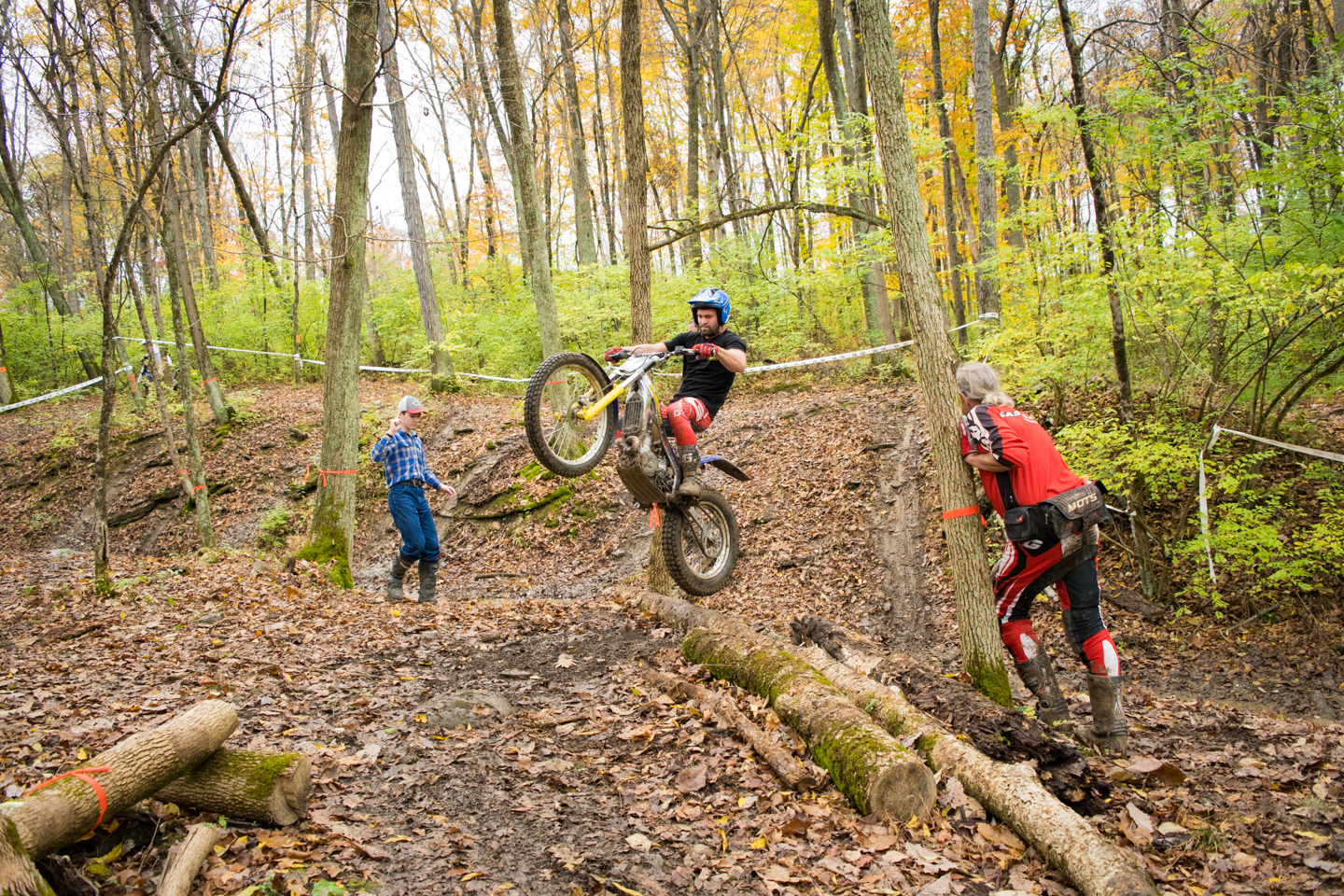 A lot has happened in the trials Incorporated world over the past year. We've had celebrations, defeats, bumps and bruises and broken bikes, and more rain than anyone can measure. To signify a close to the 2017 season and honor those special moments, TI hosted their annual year-end banquet, this time in Dayton, OH. Everyone who rode at least 8 events was presented with a plaque showcasing their achievements and positions in each event, as well as a photograph of themselves in action. In addition to these awards, specialized awards were given to those who showed exceptional skills or contribution to the trials community.
Children are the future of any sport, and trials is no exception. The first award of the evening was presented to Tim Pullman from the Conley family. Tim received the "Minder of the Year" award for his hard work and dedication helping mind for many of the children riding the Youth and Novice classes. Tim surrendered his entire Trials riding season, driving from Virginia to each event to assist the children with bike issues, navigating the loops, and offering advice for riding sections. "I had a great time and I wouldn't trade it for anything."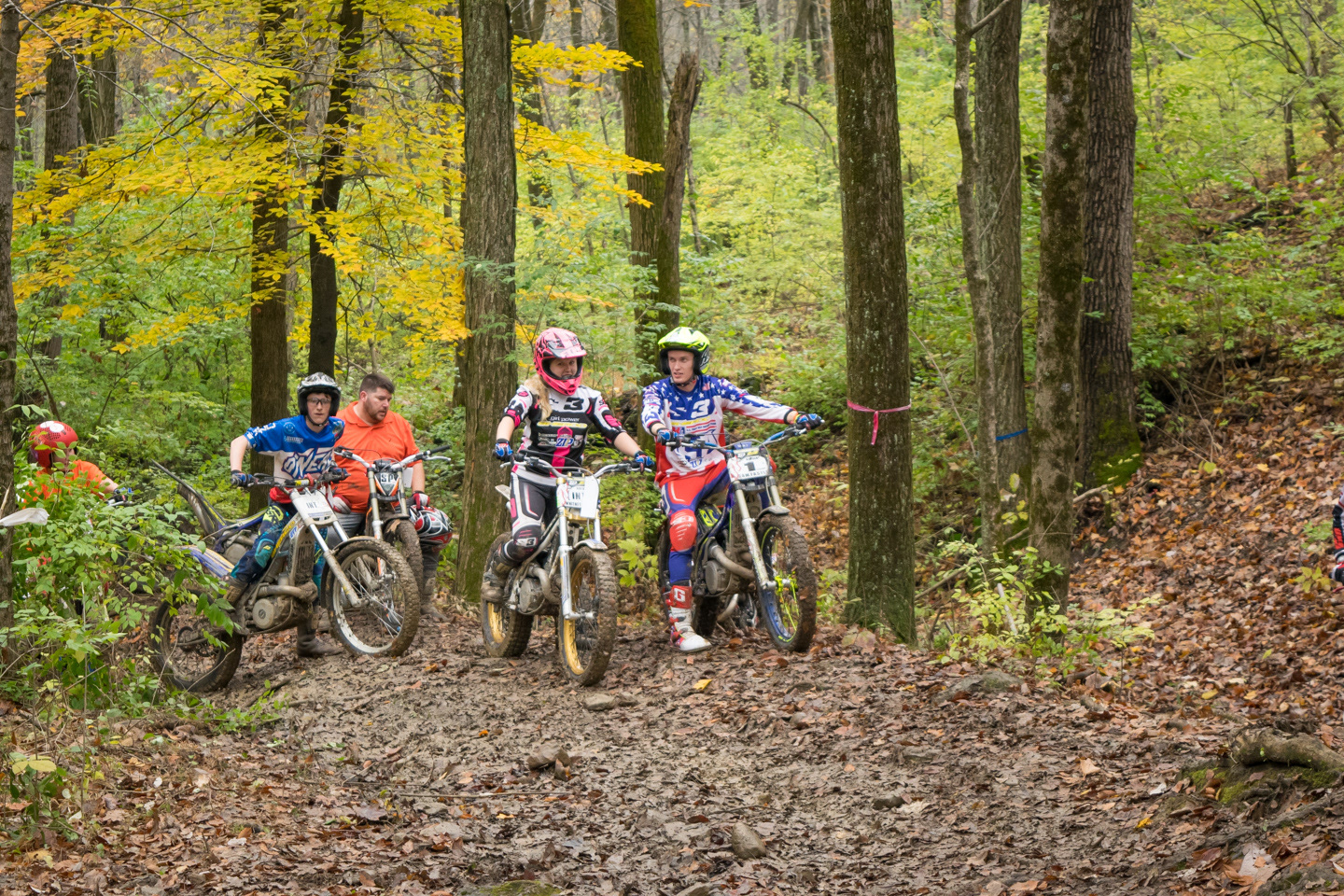 The Conley family were flooded with a series of awards this year. Greg Conley received the highly-coveted "Mr. Clean" award for securing the most clean rides of any rider (305 cleans). Kim Conley received awards for her help with photography, setting up and keeping the Ohio National on track, as well as everything else she helped with for the year. Jim Zuroske presented the 10th annual "Titanium Tough" award to Gwen Conley. This travelling award was created to recognize the efforts of teamwork between children and parents, and is given to someone who displayed persistence through all challenges. Gwen pushed herself to finish every event she attended, and helped with, or checked, many others. Finally, the Conley clan was given the "Sportsman of the Year" award, also known as the "Bill Spring Memorial Award." This family has shown total involvement in the sport, ranging from riding and checking events, to organizing and hosting a National, to attending the NATC meeting. Few families have this large of a workforce that is as dedicated and hardworking as the Conleys.
The Royce Klein Hall of Fame saw its 3rd round of inductees. Trials Inc created this Hall of Fame to honor members who exhibit great compassion, commitment, dedication, selflessness, and service to Trials Inc and the trials community. Jerry Huddleston and Steve Williams were this year's inductees. Jerry has been involved in trials since the mid-1970's, saw a son through to his Champ-class championship win, was TI NATC representative, worked as the NATC awards coordinator, and was inducted into the NATC Hall of Fame in 2015. Steve started with Trials Inc in the 1970's and has brought countless new rider to the sport. He has been Section Captain at several World Rounds, has been in charge of Tech Inspection at AMA Vintage Days, and has helped find places to practice and compete by flawlessly bridging the gap between land owners and the trials club. Steve is currently the second-highest of all TI members with regards to the most competitions finished, standing at 203. TI's own Jim Watson was also inducted into the NATC Hall of Fame as thanks for his dedication. Jim has been part of the ride survey committee since the mid 1990's, has served as the TI NATC rep, and has acted as the NATC AMA Congress representative. Their perseverance and devotion to the club and the sport has helped make trials into the great entity it is today and we thank them for their years of service.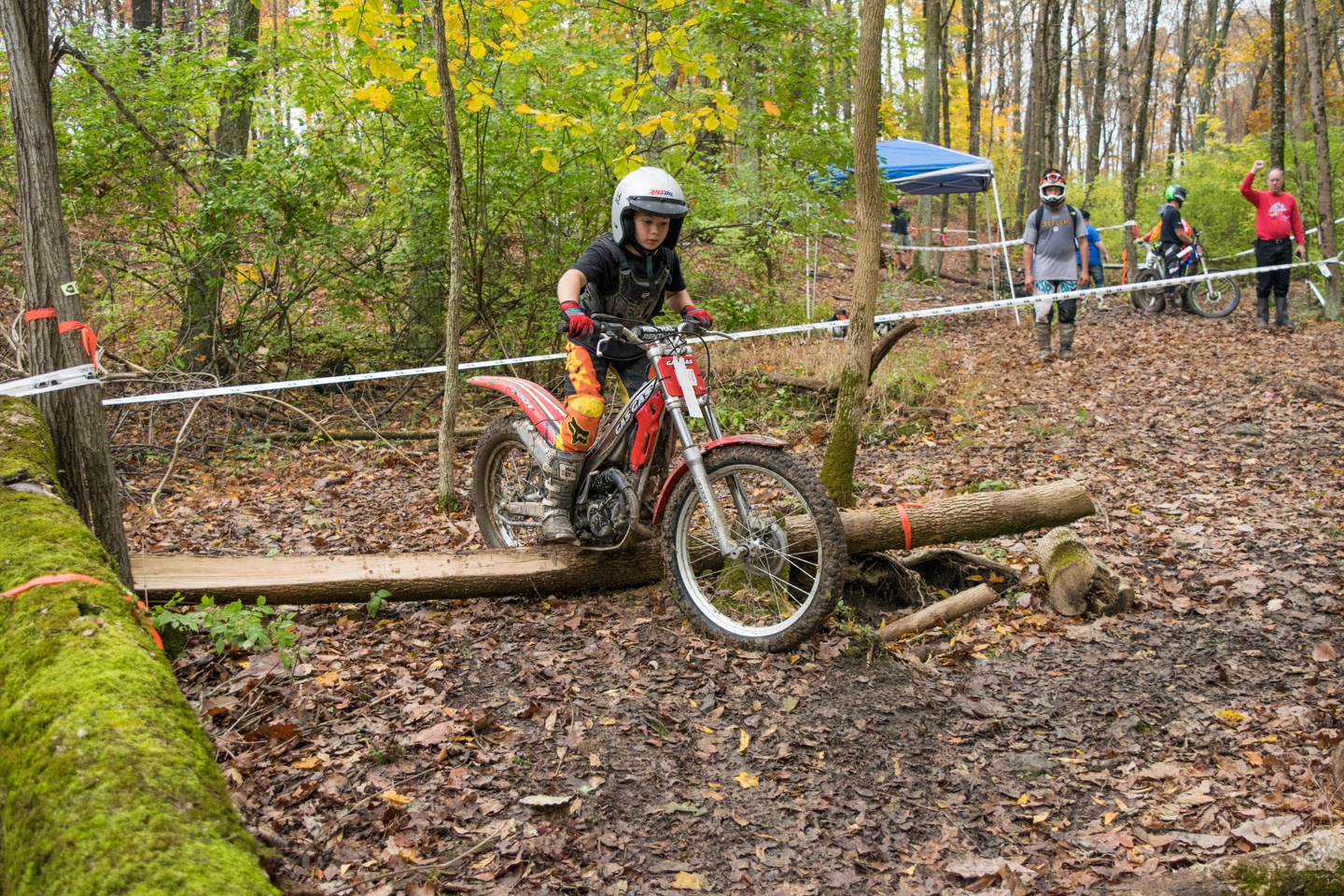 The end of a season also marks the club meeting to discuss new items for the upcoming season. The meeting welcomes not only the Board Members and Trial Masters, but all interested trials riders who would like to bring up new business or speak about current rules. Hosted at the Dayton Motorcycle Club, this year's meeting saw the creation of a new class, designated SPA for "Sportsman-Advanced." This class will be a better gradation for those riders looking to graduate from the Sportsman class to the Advanced class. As there is a considerable increase in skill requirement between the two, the SPA class riders will ride half their day with the hardest Sportsman sections as laid out, with the other half being the easiest Advanced sections, and will give them a chance to truly test their skill level.
Round 1 of Trial Inc's 2018 season was special for a couple different reasons. First off, it marked the return of trials competition to the Dayton Dirt Riders club. Comprised of about 50 acres, this area has housed motorcycle events since the mid-1970's and used to host TI in the years around 1975. Even today, Dayton Dirt Riders is mostly an enduro club, with its members riding every Wednesday, Saturday, and Sunday, year-round. Trial Inc member Steve Berry has been involved with this venue for 40 years, learning trials from one of its former owners, Russ Driver, for which this year's trials event was aptly named the Russ Driver Memorial Ride, at least the 3rd of its kind. Russ was a former toolmaker and trials hobbyist, and was a mentor to Steve, teaching him the way of setting sections and running a trials event. He was also active in TI in his day, and the Memorial Ride was established to express how much he influenced the lives of other motorcycle riders.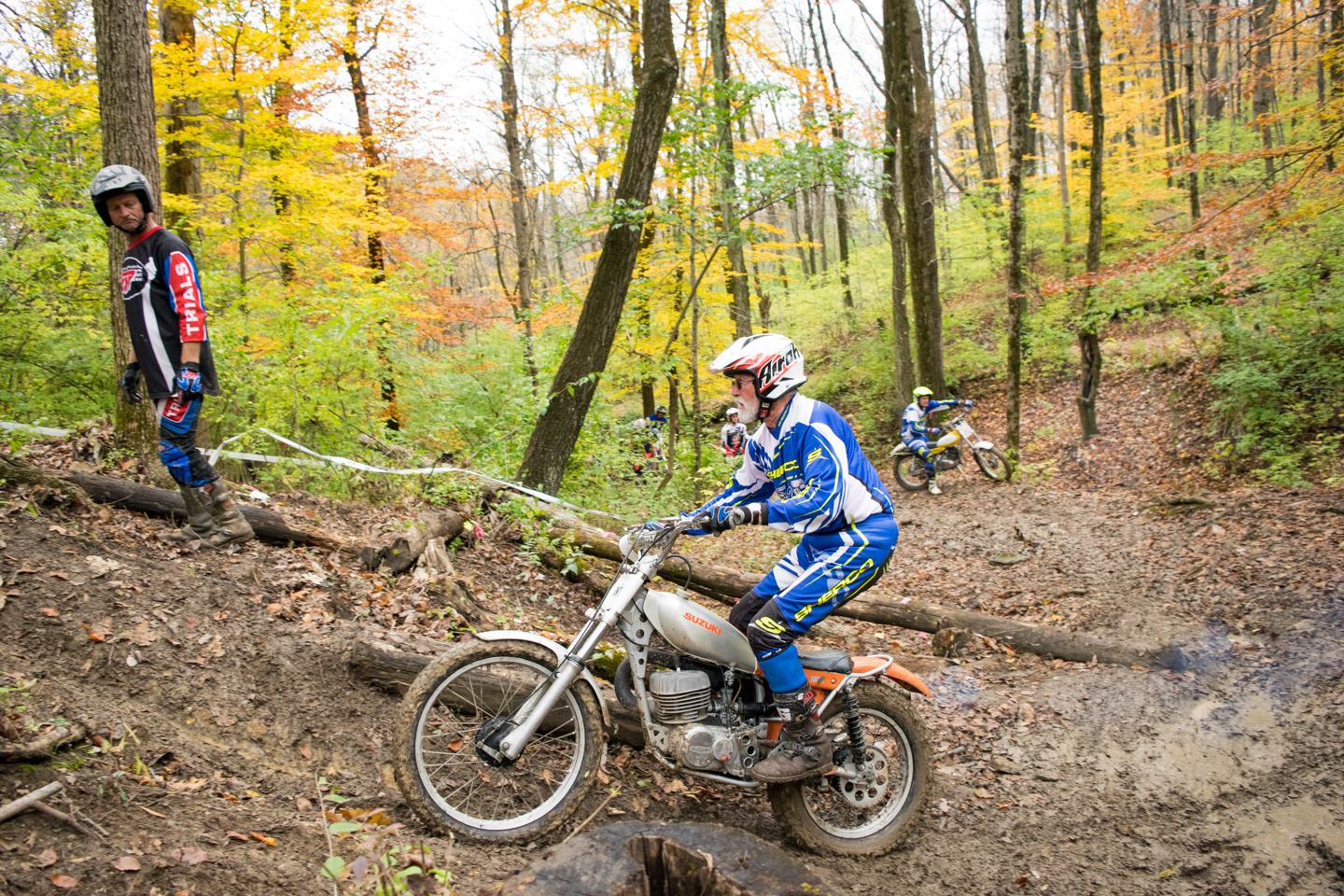 The event had a rather overcast start, but the sky threatened to open the floodgates. Because of this, one loop was removed from all classes. This meant that Novice had only two loops to complete, while the rest needed to make three. In all, the sections were set up properly for each skill level. The most important thing to be weary of when setting up a trials event is keeping a safe exit route for splatters/turns/etc should things go awry. No section was set up as to be potentially dangerous to any rider, allowing everyone to feel comfortable pushing their skill set. Rain prior to the event added another element, making parts of the loop muddy enough to feel like an obstacle. Some rather gradual hill climbs had ruts nearly 8 inches deep, only growing deeper the more riders it saw. This also impacted the sections, making rather simple turns challenging. Even though it was a muddy, every rider seemed to enjoy the day, and two members even took the chance to try out the new SPA class. Paul Barrows took second place, with Greg Conley taking first. Vintage A class, riding the Sportsman line, saw Mark Schwab take third, Mitch Kalinowski take second, and Ryan Young place first. The Vintage class, riding the Intermediate line, saw Jim Niebrzydowski take third, Tom Burklow take second; first place, with a great start to his season, was Jerry Young.
For a complete race schedule for 2018, check out www.trialsinc.org. Stay tuned for our updated website and scoring system. See you on the loop!
- published in the January 2018 issue of
On The Pegs