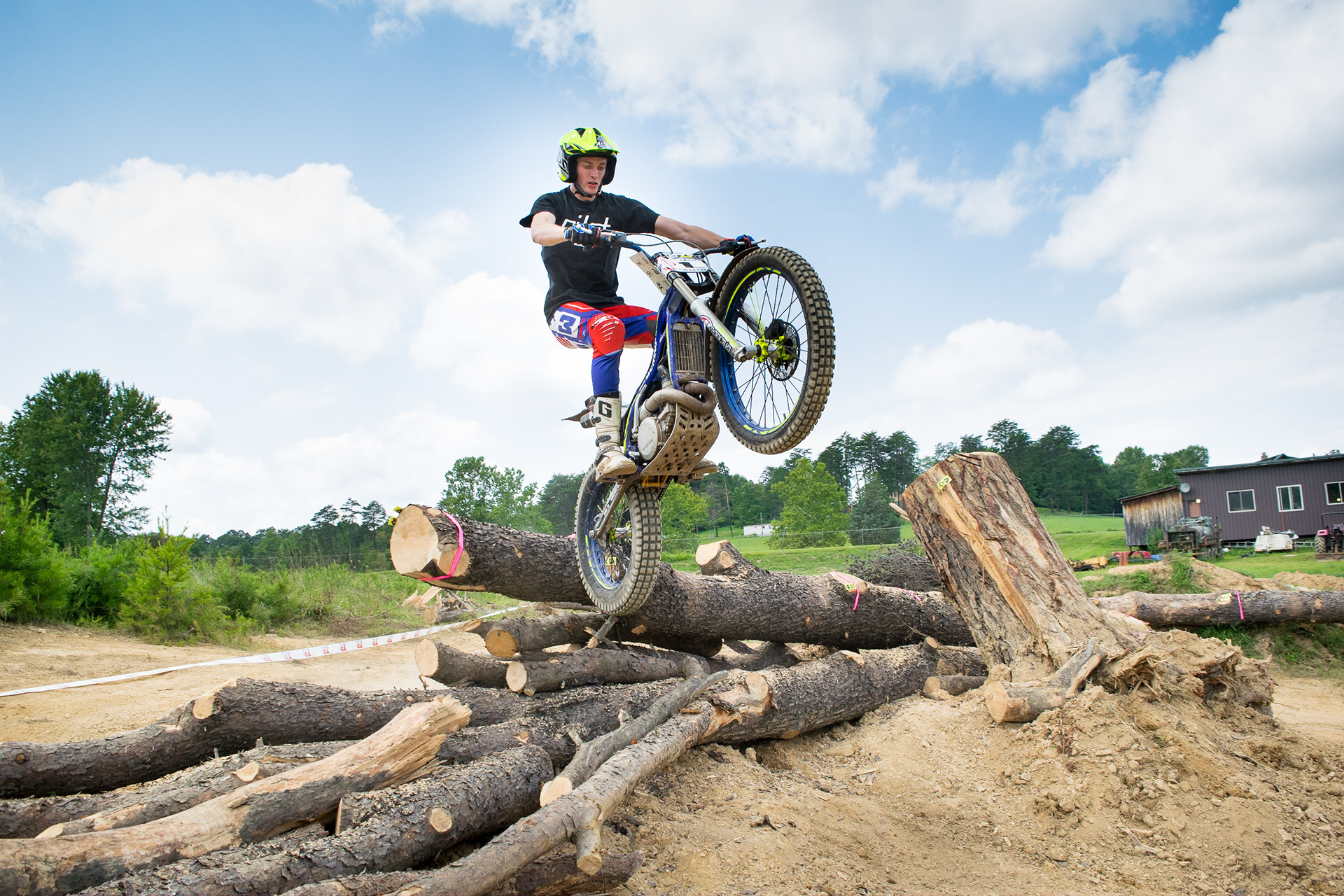 August 12th and 13th saw rounds 10 and 11 of the Trials Inc championship series take place at Wildwood Lake Raceway, located in Little Hocking, OH. On any given day throughout the year, Wildwood hosts motocross and grand prix races, with classes anywhere from 50cc trail bikes to super minis to full-size motorcycles and quads. However, once a year since its adoption into the yearly TI schedule in 2013, the raceway sets its property aside to play host to the seat-less wonders of trials bikes.
As anyone who's ever hosted a trials event knows, the most difficult part is usually finding time to get workers together to help set up, clean the loop and the sections, and put in split markers. While 16 sections don't seem like a lot, the challenge comes from ensuring each section is ridable by skill levels from Novice to Champ. This event, however, saw an extremely helpful set-up crew led by long-time TI members Gil Reed, Joe Clark, and Gary Roach. With anywhere from 4 to 8 helpers every day, they were able to finish event set-up in plenty of time for competition weekend and simultaneously introduce several new riders to the sport. After cleaning a section, Joe and Gary would have the inexperienced trials riders navigate the obstacles set for the Novice or Intermediate classes, teaching them how to evaluate a section and choose the right line for their class.
As newcomers join the fray and the sport itself evolves over time, so too do the sections. The most difficult part of hosting an event at Wildwood is laying out the loop connecting every section for the day. There are few trails that are navigable for the Novice rider, limiting the amount of property that can be used. In lieu of the ever-famous "section in a cave," Trials Incorporated worked with Jeff Hively, the land-owner of the property next door, and was able to add 6 brand-new sections to the event. This will also add acres of previously unexplored territory for the trials community and new possibilities for future events. A long-time offroad motorcycling enthusiast, Jeff showed interest in trying Trials riding, and found himself hooked after only a couple rides. Being able to work with property owners who are supportive of, enthusiastic about, and engaged in the sport, like Brent Windland (owner of Wildwood Raceway) and Jeff Hively, is the backbone of what keeps the sport of Trials alive.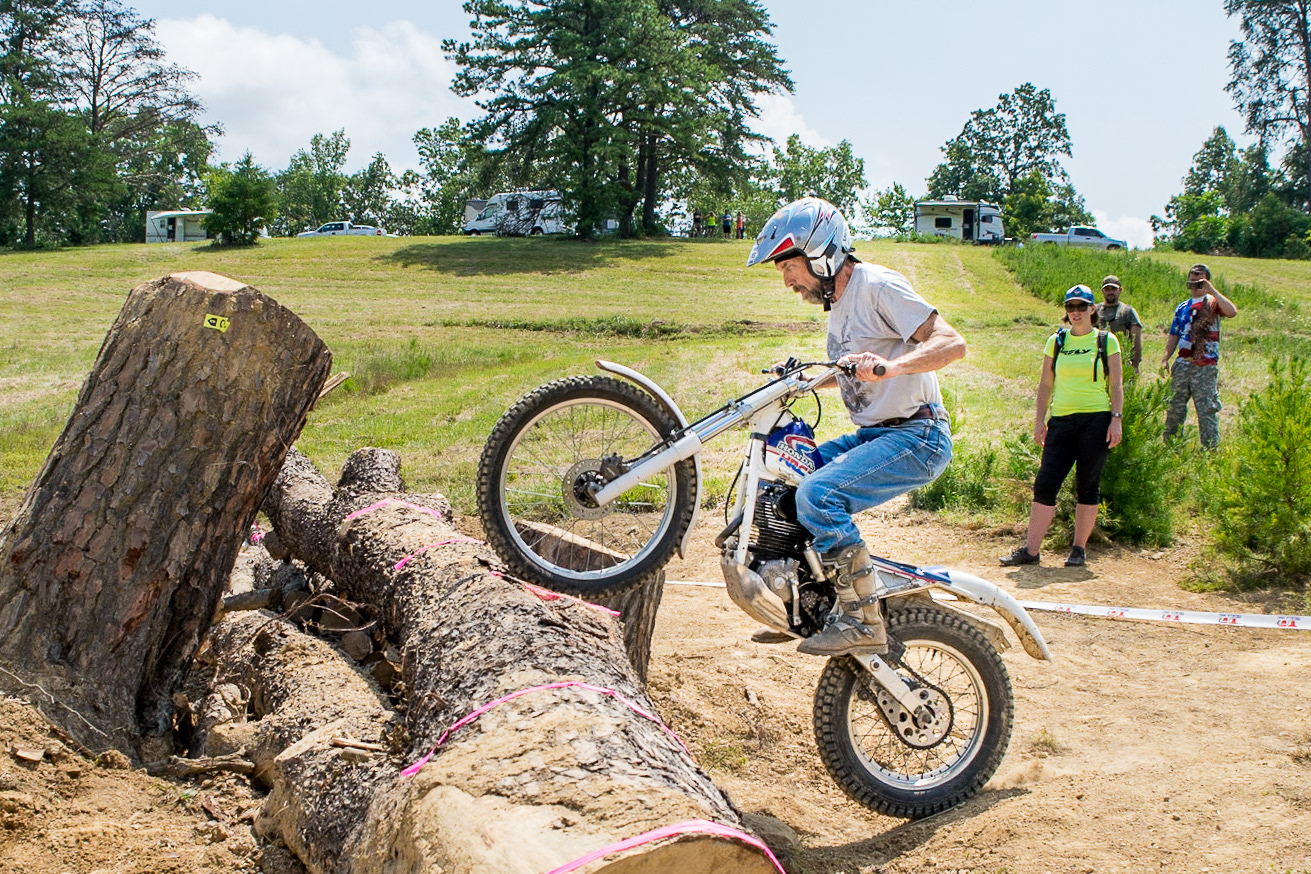 This weekend was beautiful for any outdoor activity, with temperatures between 65 and 75°F and no rain to speak of. The only downside to this lack of rain could be felt at the stadium section nearest the parking area. This section is filled with awesome logs, rocks, and tractor tires to splatter and can get rather dusty due to the shortage of grass contained therein. A second stadium section was constructed this year on the lower platform, complete with an uprooted tree at least 7-foot-tall as a challenge for the Champ class. It also contained another log laid on its side, easily 3-feet in diameter and used as a crossing for all classes from Sportsman and up. Sam Fastle, the only Champ rider for the weekend, took these trees as an opportunity for some always-impressive exhibition riding, taking a total of 12 points in the section for 4 loops. Unfortunately, Section #2 in Saturday's competition had to be shut down and taken out of the competition. A nest of bees was found within the section ribbon after the vibration of a couple bikes alerted them to the rider's presence. Although a couple riders were stung, no one suffered any ill effects, and the event was able to be completed by all.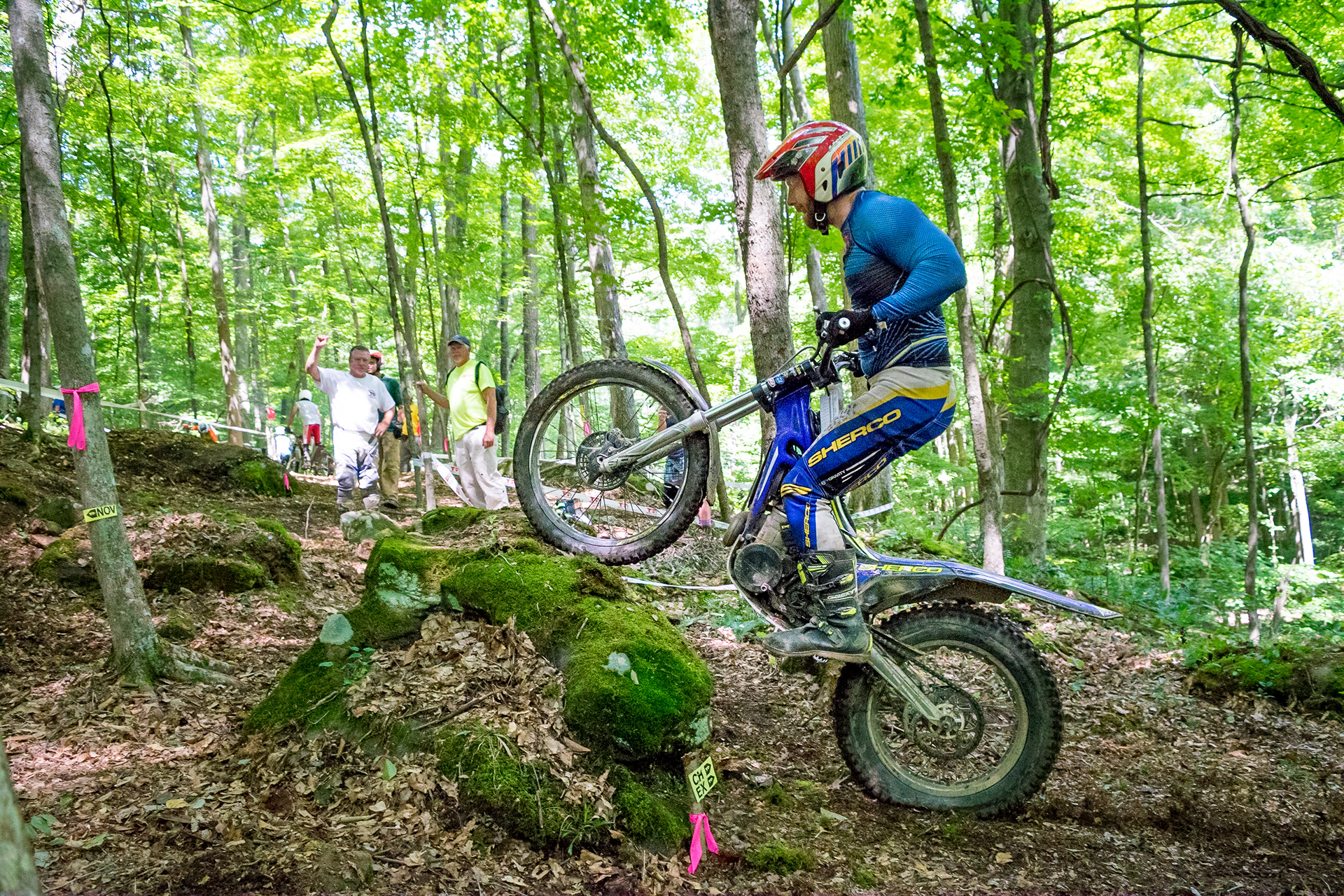 Sportsman and Intermediate classes were the largest for the weekend, averaging 9 riders a day for each class. The Sportsman class saw Colorado native Bill Haskell take top podium both days as well as secure the Overall award for the weekend with an impressive single-digit total each day (scoring only 5 points on Saturday and 3 points on Sunday). Jared Herrel made a comeback from 6th place Saturday with 11 points to 2nd on Sunday with 8 points. Don Buckley made a similar comeback from 8th place Saturday with 13 points to round out the podium on Sunday with 12 points.
Intermediate class saw podium finishers for each day with single-digits. On Saturday, Jeff Spring took 1st place with only a single point, Bill Spring with 4 points, and Mark "Lightning" Weppler with 5 points. On Sunday, Bill Spring Jr improved his earlier 4th-place finish by jumping to the head of the pack and taking 1st place with 8 points! His father, Bill Spring, secured another 2nd place finish with 8 points (having been knocked to 2nd place on fewer clean rides than his son). Kevin Fields improved his finish as well, coming from 7th place on Saturday to 3rd place on Sunday to round out the podium with 9 points. In larger classes such as these, even a few points could mean the difference between first place and last place.
What are the plans for the future of Wildwood? Brent is looking to increase the amount of parking space as well as upgrade the driveway leading to the parking area. Of course, with the additional acreage, TI will be out exploring for new sections, looking to bring nothing but the best to future events.
For a complete race schedule for 2017, which runs into November, check out www.trialsinc.org, and follow us on Facebook. See you on the loop!
- published in the October 2017 issue of
On The Pegs