No other event in the Trials Inc series has terrain quite like Southington Offroad Park. Located in Garrettsville, OH, this offroad park is host to a variety of hobbies. The biggest attraction is their Jeep and 4x4 events that allow OHV (off-highway vehicles) to climb, quite literally, all the rock ledges that make up this great 1,500-acre quarry. Rather than the trees, dirt, mud, and moss that riders are accustomed to, this event afforded the opportunity to ride an entirely new landscape comprised predominantly of sand and rock.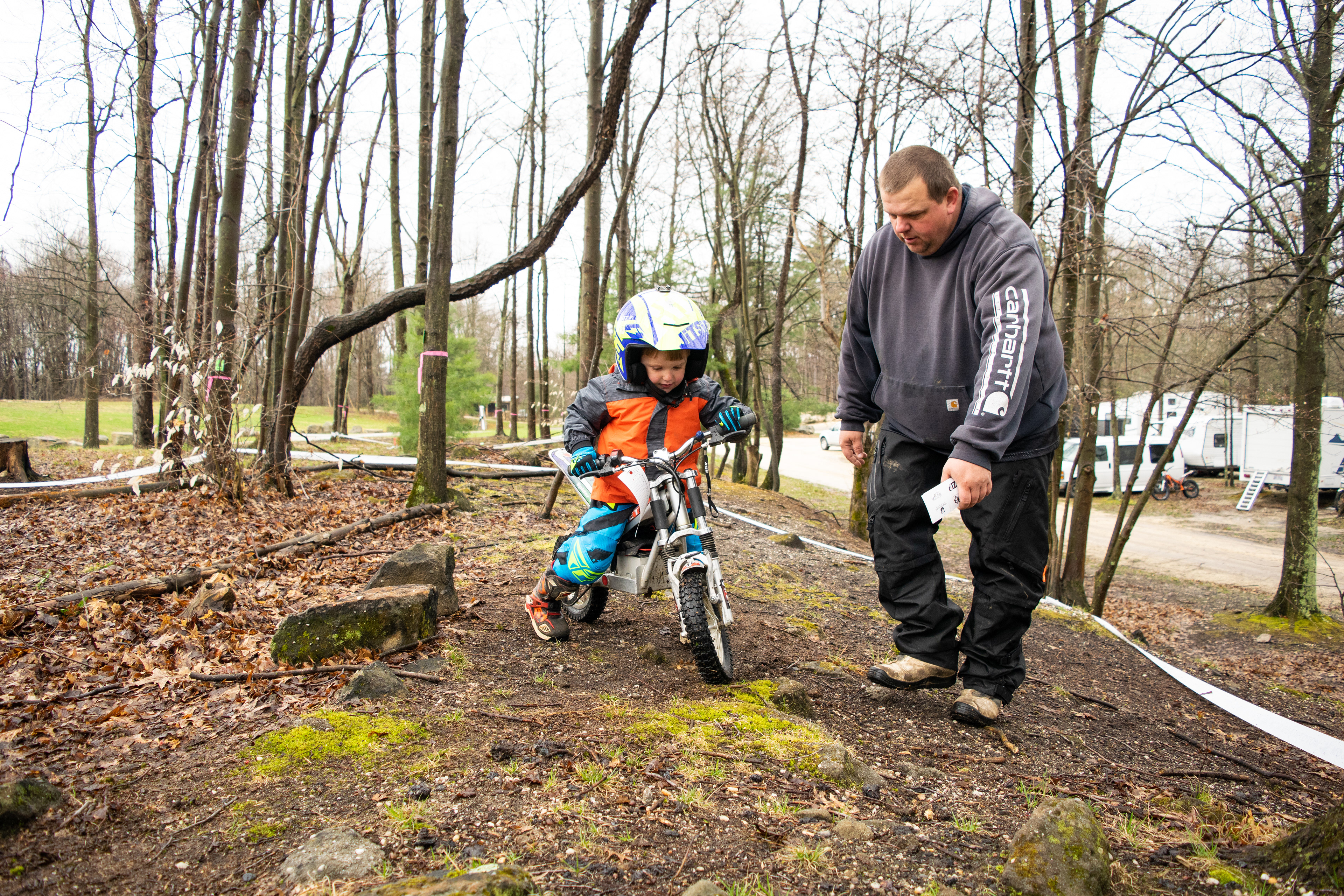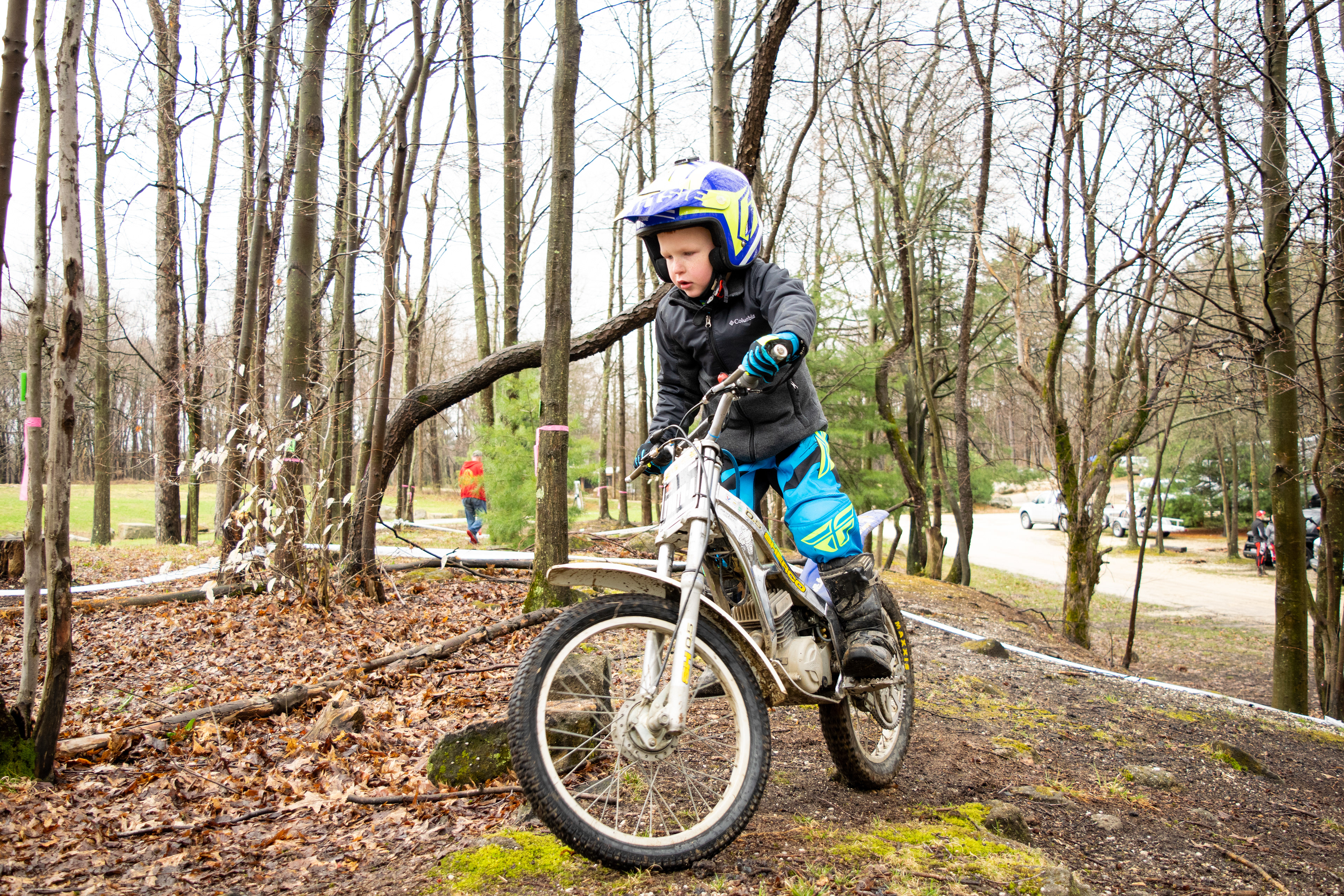 How does riding the terrain of this venue compare to the normal grassy, mossy locations Trials Inc runs? For someone who has never ridden sand before, it can best be equated to riding in mud. Just like mud, sand has grip, but is constantly changing. Sand that is wet, or even a little damp, provides better grip because it doesn't flow as easily as dry sand. Dry sand, on the other hand, is extremely mobile and more likely to throw the bike around and cause unnecessary dabs (and point increases). When performing movements as simple as rolling up an obstacle, or as complex as jap zaps and splatters, any downward force given by the rider through the pegs to achieve lift is dispersed through the sand. Lift is achieved (on normal terrain) by that downward force having an opposite force pushing from the ground back up to the rider. Because this opposite force is dispersed in sand, more force is required to have the same amount of lift.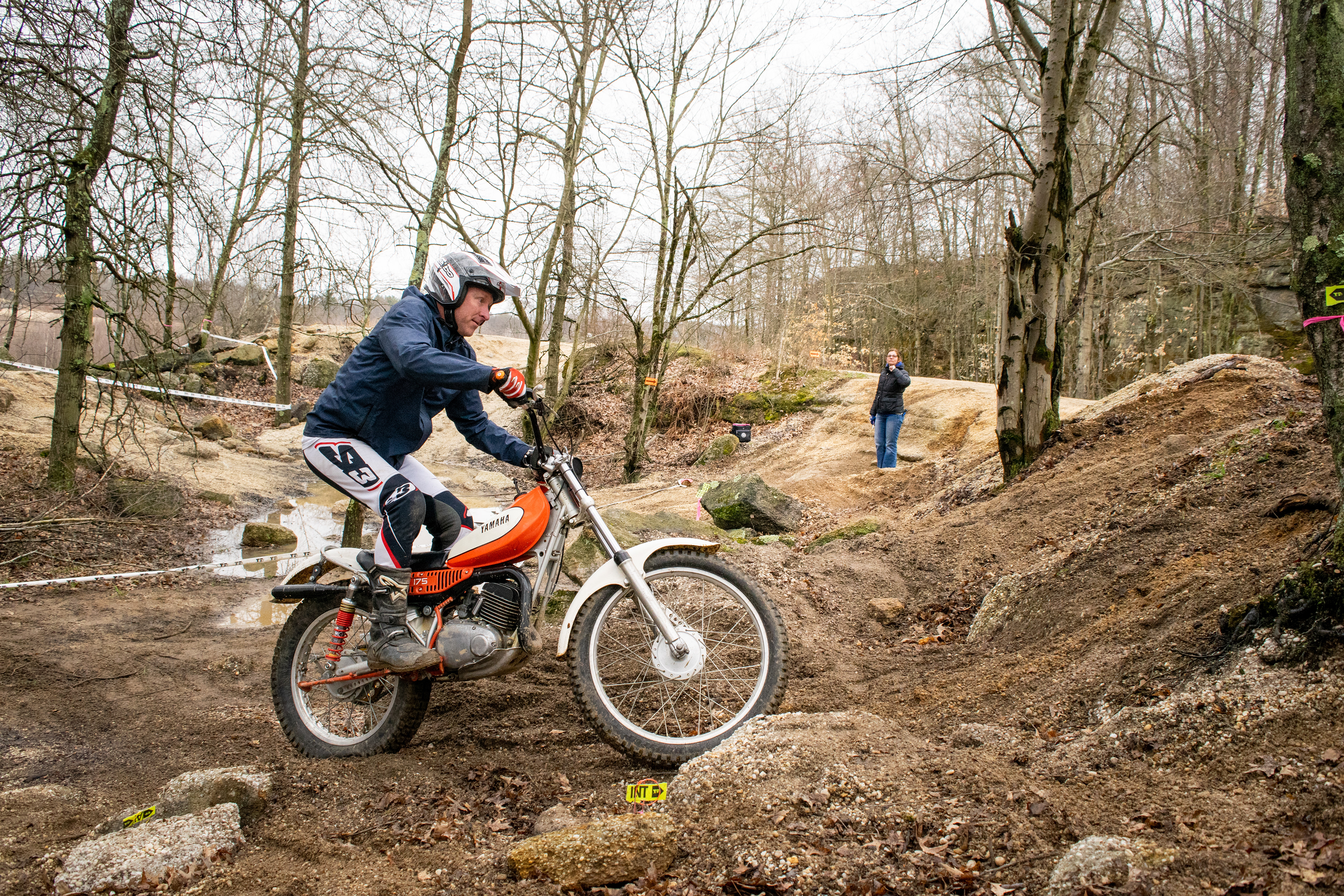 Another issue with riding obstacles in sand is that just like riding in mud, the rock faces become slippery as more riders pass over them. This is because each rider tracks a small amount of sand onto the rock. As the day goes on and more sand is relocated, tires will slip through the layer of sand before coming in contact with the rock face. This presents an increased challenge to riders of all classes, but most importantly the higher skill classes who are tasked with scaling much taller rocks. Riders must also be aware that ruts will form at the approach to these obstacles and become greater with each attempt. This increases the distance, ever so slightly, between the ground and the top of the rock. While all of this may sound rather daunting to a new rider, there are some tips or tricks that can help.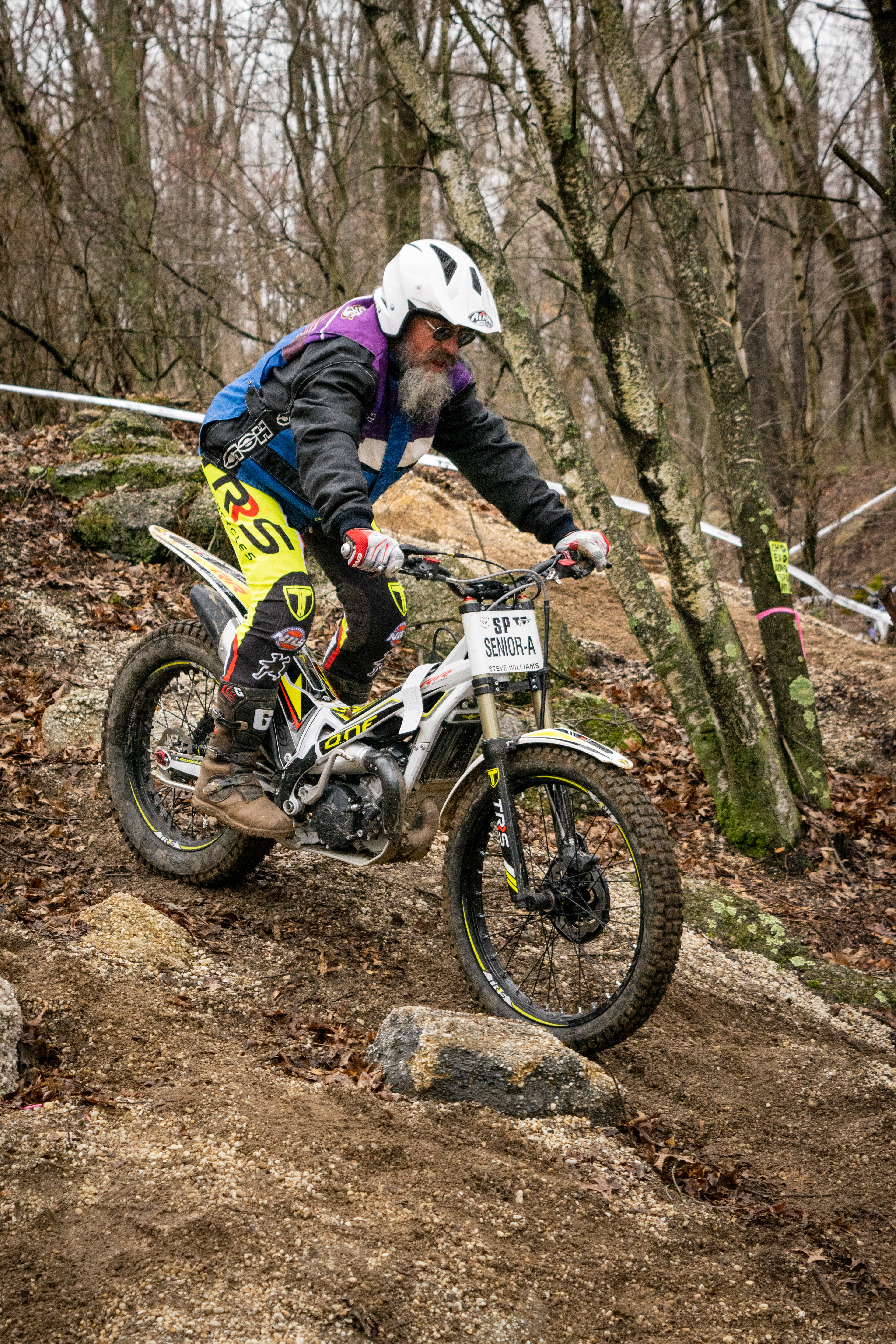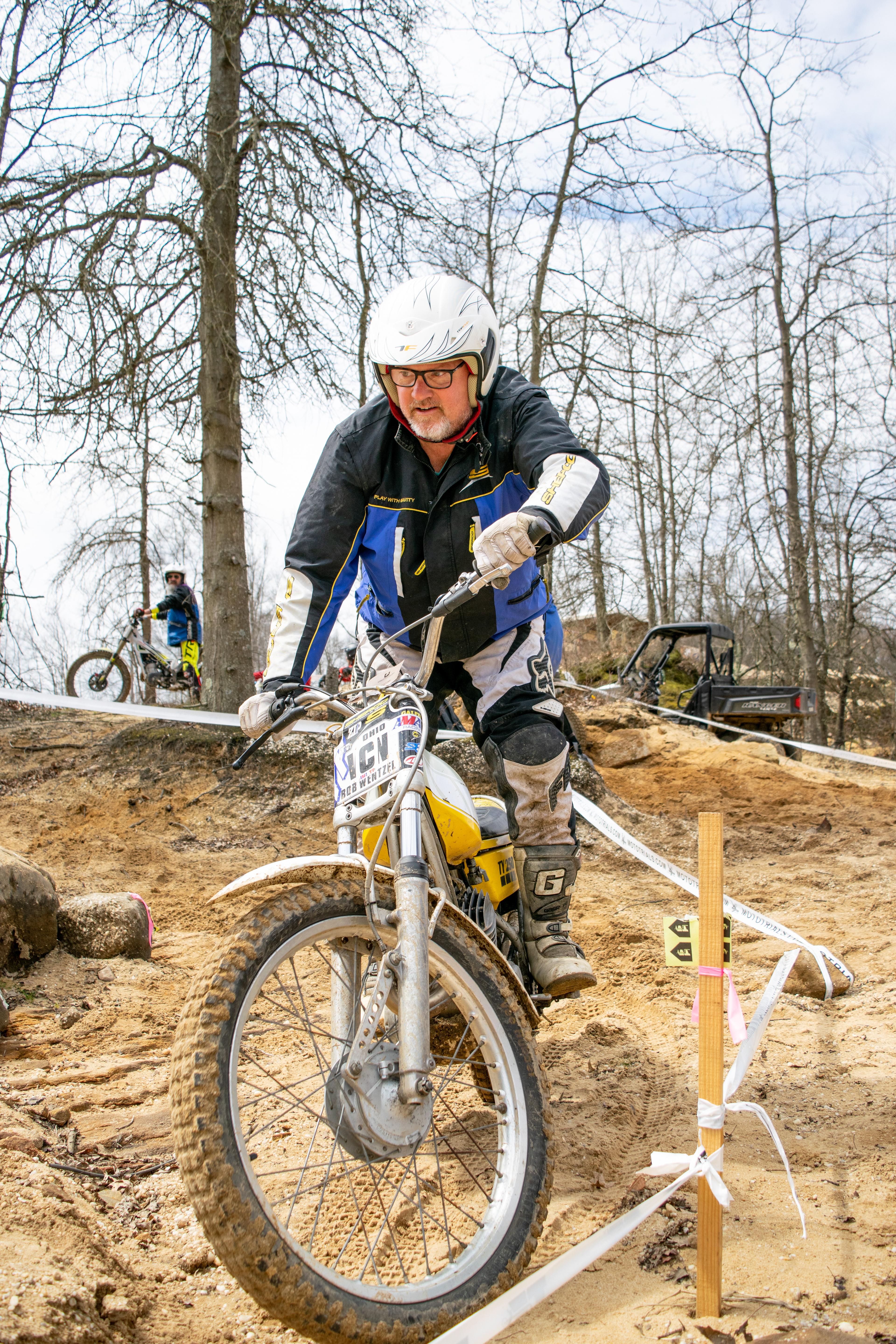 Body position is huge. Avoid keeping too much weight centered over the front tire; this lightens the rear tire and you lose traction. Keeping your weight over the rear tire more than you normally would can help to put more force on that tire and help give more traction. Make sure to practice balance, especially while turning. Being able to flow easily, any lack of proper body position in sand can result is the front wheel pushing out in the turn. Having proper body position as well as good clutch and throttle control can help counteract the adverse effects of such fluid terrain. Focus is key to not only ride through all your gates in the observed-trial style of Trials Inc, but to be in-the-moment and stay ready to correct any sudden wheel movements.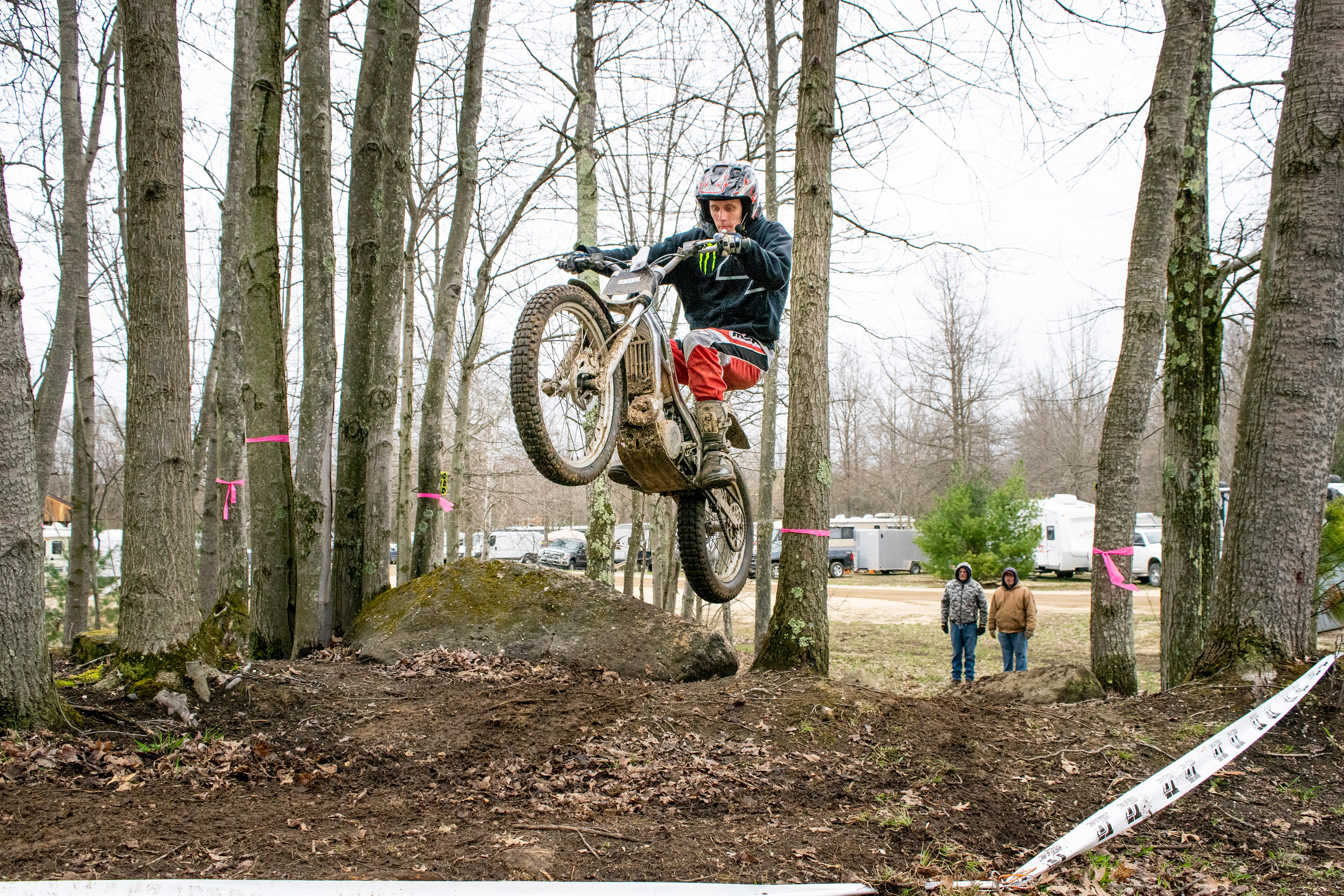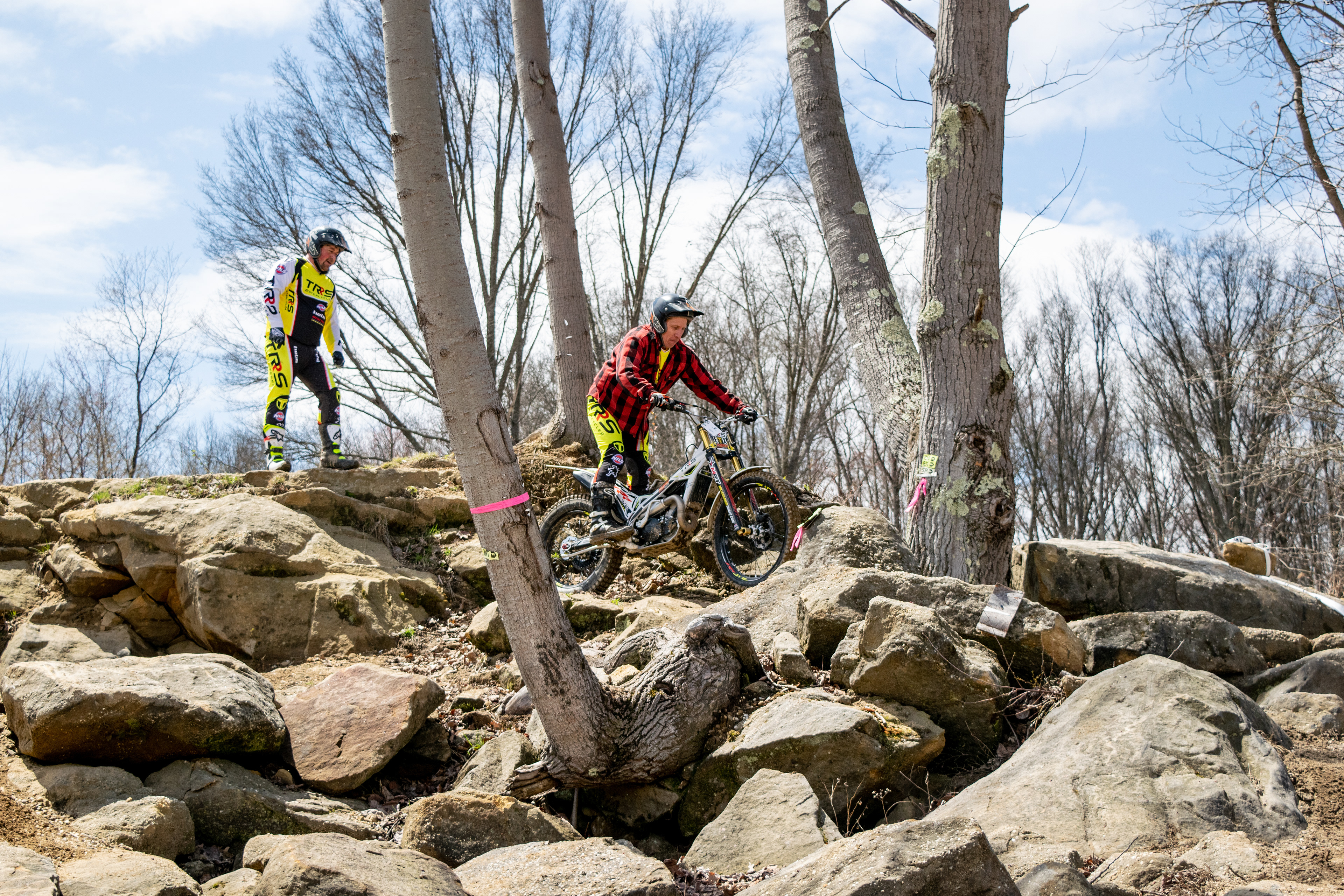 Just like anything else, practice is key.
Aside from the unique terrain, Southington Offroad Park is filled with amenities that make riding in early spring more manageable. This venue drains easily and allowing any rainfall (or melting snow) to quickly seep through the ground. Few, if any, puddles are formed, and the effects of the water are not felt. Southington has a modern bath house, complete with several showers and hot water, a campground/pit area that is flat and equipped with electric hookups, a volleyball court, and a playground for kids to enjoy. There is even a cabin/clubhouse that provides hot food and drink, as well as souvenirs. Hosting an event in early spring still runs the risk of a cold rainy/ snowy event, and that's exactly what happened. Saturday started as a drizzly, overcast day with a high of only 47°F. A little rain and cold isn't enough to drive most trials riders away from an opportunity to ride with their friends. 77 riders arrived on Saturday with their thermal riding gear, ready to go, followed by an incredible 83 riders for Sunday. With such a great turnout, great section setup (as reflected in the section scores for the weekend), great amenities, and friendly venue owners, Southington is definitely an event that is here to stay.