Friendship. Kindred spirits. A sense of belonging. Friendship impacts our world more than we would like to admit sometimes. It's the driving force behind many of our decisions in life, sometimes for the better, other times not. Go to any trials event (not just Trials Inc events), and you'll see nothing but like-minded individuals who are excited about getting out and riding motorcycles with their friends. The sport of trials is a very niche sport at the moment. Unlike motocross with numerous tracks within a relatively small area, trials clubs and events are more widespread. Trials people tend to be more willing to travel longer distances to ride, so chances are you'll run into someone you know everywhere you ride.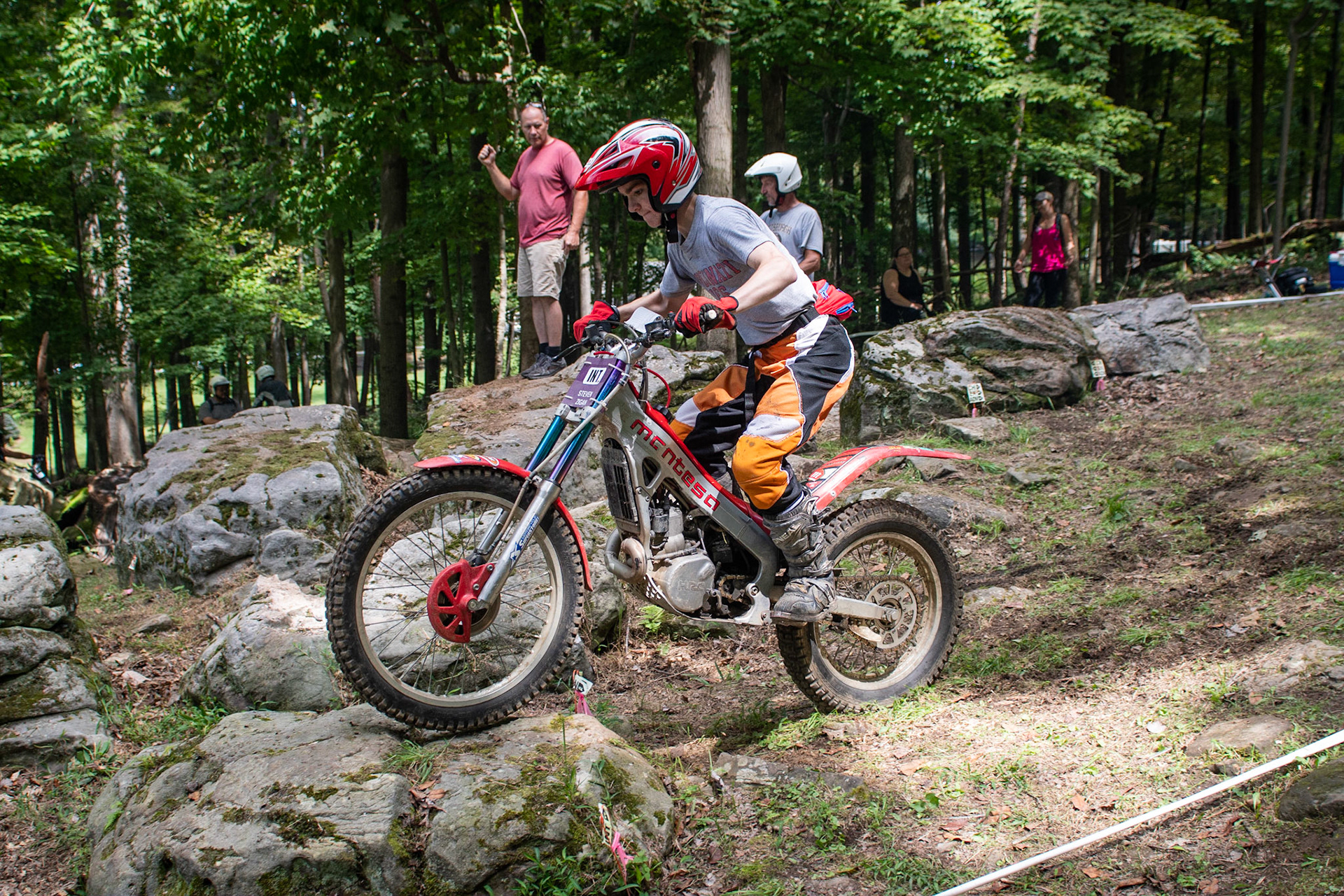 Ask anyone with a trials bike what they're favorite part of the sport is, and the number one answer is the people. Because only one rider is allowed to ride a section at a time, the sport is more a competition between the rider and himself. As riders are still competitive between each other, there is more comraderie than other offroad sports that pit rider against rider (such as motocross or enduros).
2018 marks 13 years that the Hanger family has shown just how much they are a friend to Trials Inc. Not many homeowners would be willing to open up their property and front yards to allow people they may or may not know to set up camp for the sole purpose of riding motorcycles. But for the last 13 years, this is exactly what the Hanger family has done. With some creativity and some heavy moving equipment, stepped platforms were cut into the side of the hills not far from the property house. Why, you may ask? To allow riders with RV's and trailers a level place to park for the weekend. Anyone who has any experience travelling and camping at events will attest that sometimes finding a level place to park is a challenge in and of itself.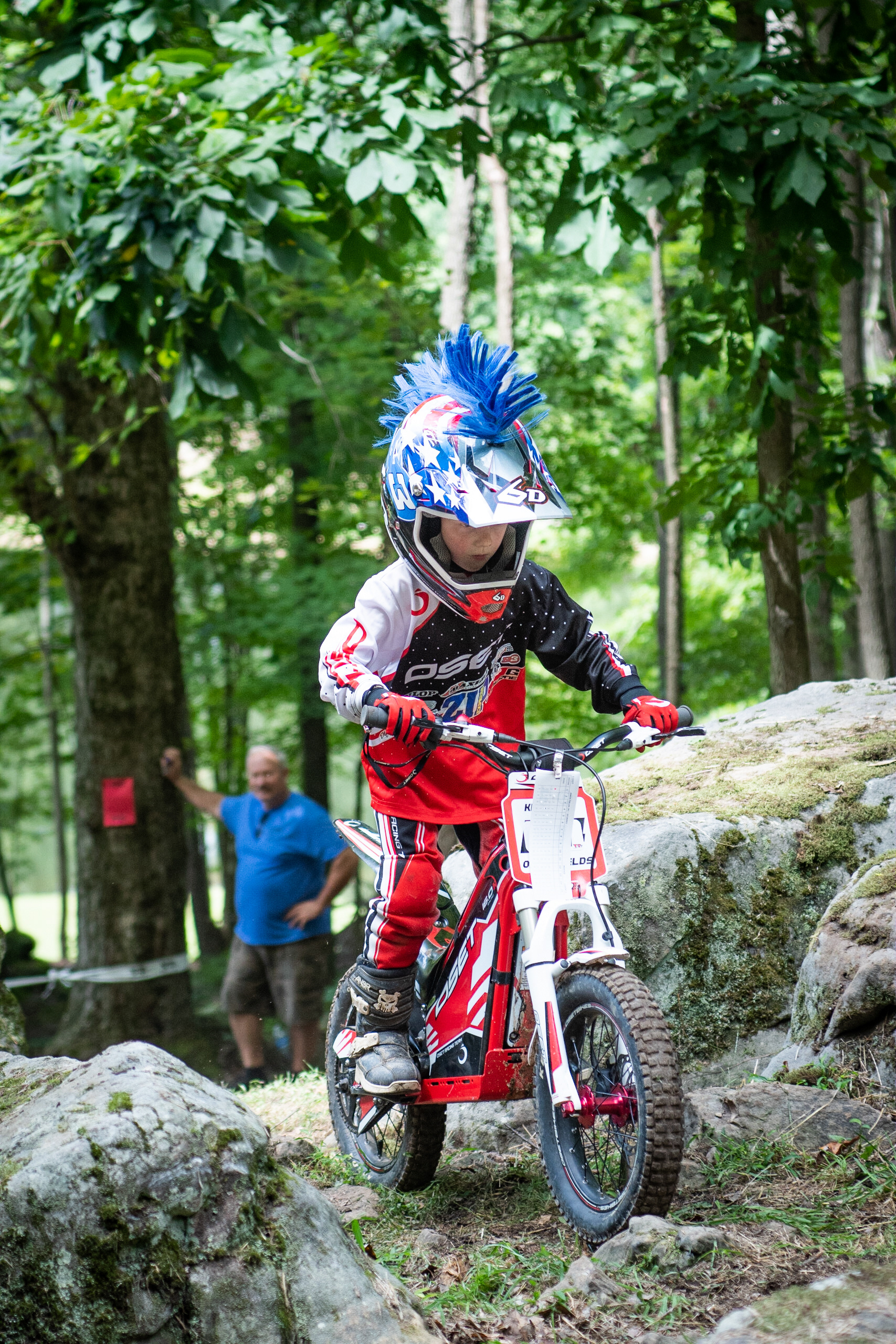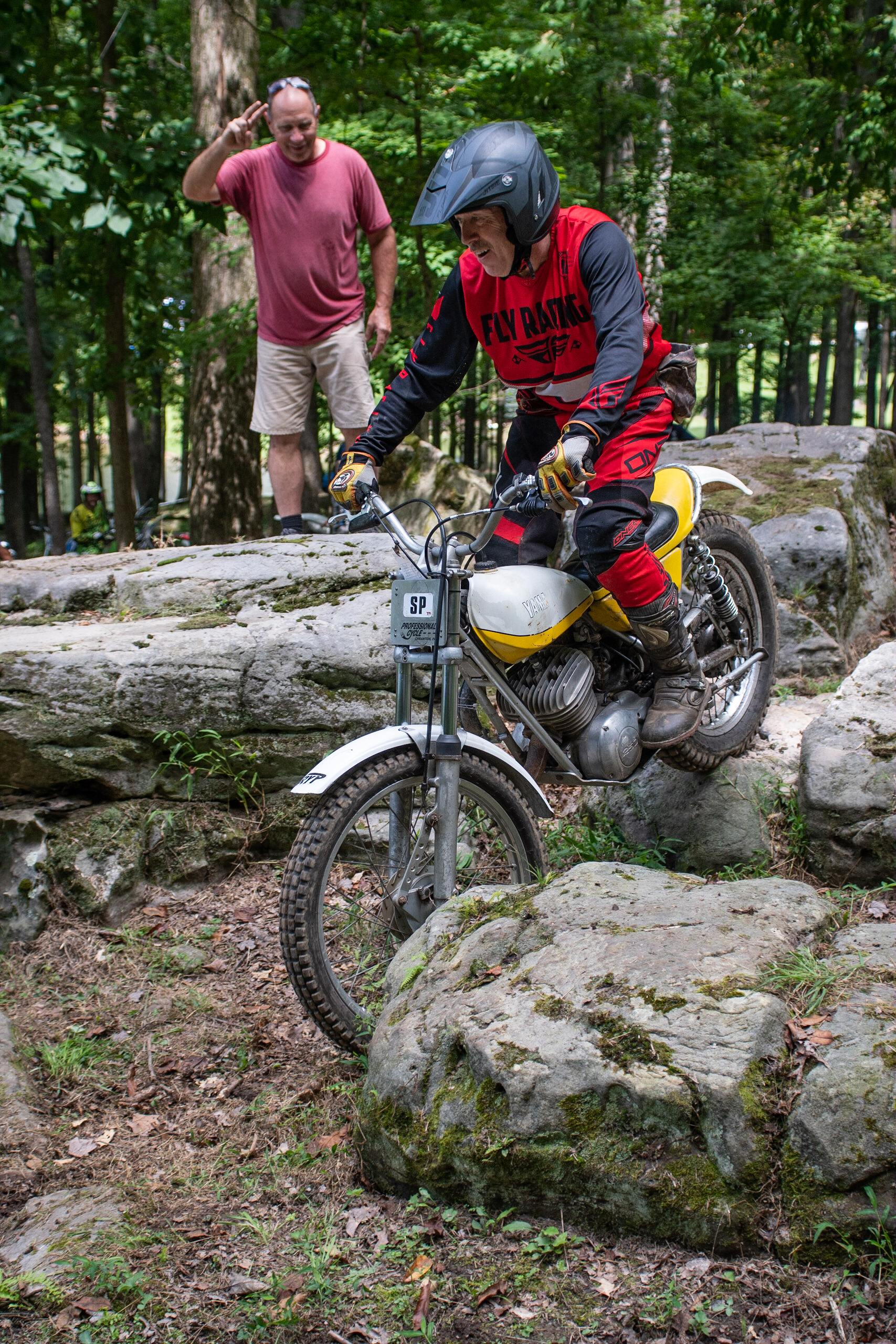 You would think that opening up their property and carving their hillside would be enough, but no. First thing in the morning, the property owners, friends, and family can be found in the garage, getting coffee and breakfast sandwiches ready to provide to riders. Even after the events start, Hangers can be found getting lunch sandwiches and snacks prepared. Is that all? Nope. Per tradition, after Saturday's event, homemade ice cream is brought out. Yep, you heard correctly, HOMEMADE ICE CREAM. Made on-site, by hand. Available to anyone and everyone who showed up to the event, rider, family, and spectators alike, heaping dishes of vanilla ice cream are scooped up and handed out. This is a wonderful opportunity that allows those new to Trials Inc the chance to meet the people that make up this great club, and allows the members themselves a chance to hang out and discuss the day's competition.
At just shy of 2.5 miles, each day's competition took riders through 10 sections connected by the most well aintained and least challenging loop of any TI event. Each section was given its own name, from sections like "Chia Pet" (section #3 for Saturday) which was made around a van-sized rock sticking about 4-foot above ground and covered in moss, to "Power Lines" (section #7 for Saturday), a section made entirely of rocks and giant logs. In "Power Lines," riders from the Advance class and up were required to climb a 3-foot rock just inside the start gate as well as a large rock just before the finish gate. Champ riders were required to hit a near verticle 4-foot rock face before exiting.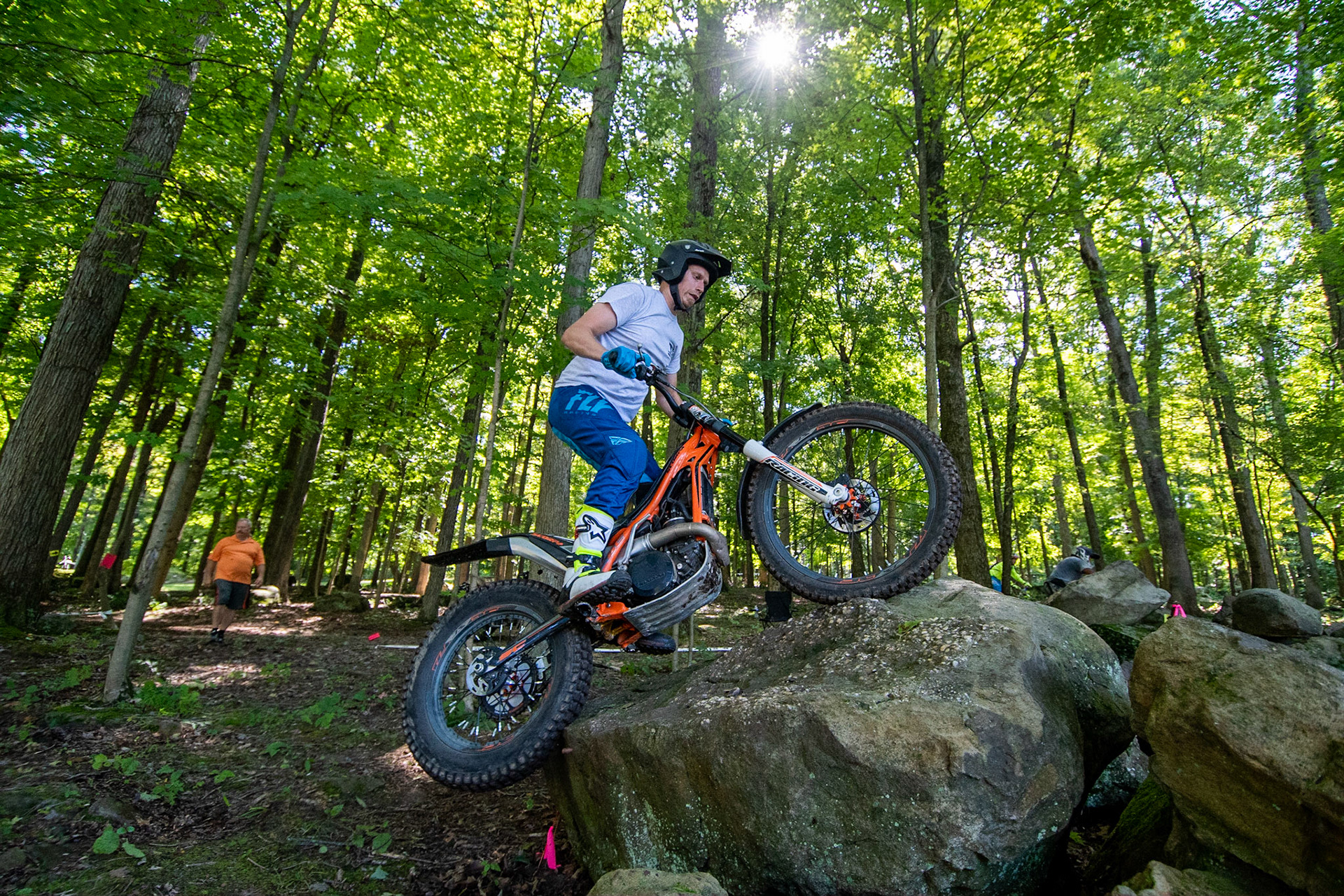 Sections such as "Neal's New Rocks" (section #8 for Saturday) were named after the owner himself. Neal had been transporting rocks of various sizes out of the woods and relocating them in a pile just outside the treeline. This was finally realized as a section for this year's event, and coupled with a few downed trees, provided a great level of challenge without being a safety hazard.
Section #7 for Sunday was aptly named "Lakeside Rocks." In addition to the beautiful house and beautiful front lawn, the Hanger property is also home to a rather decent-sized lake. Attendees are allowed to use this lake to swim or fish, provided they respect the environment around them. Riders were given the opportunity to ride a section built directly off of the lake and filled with small boulders.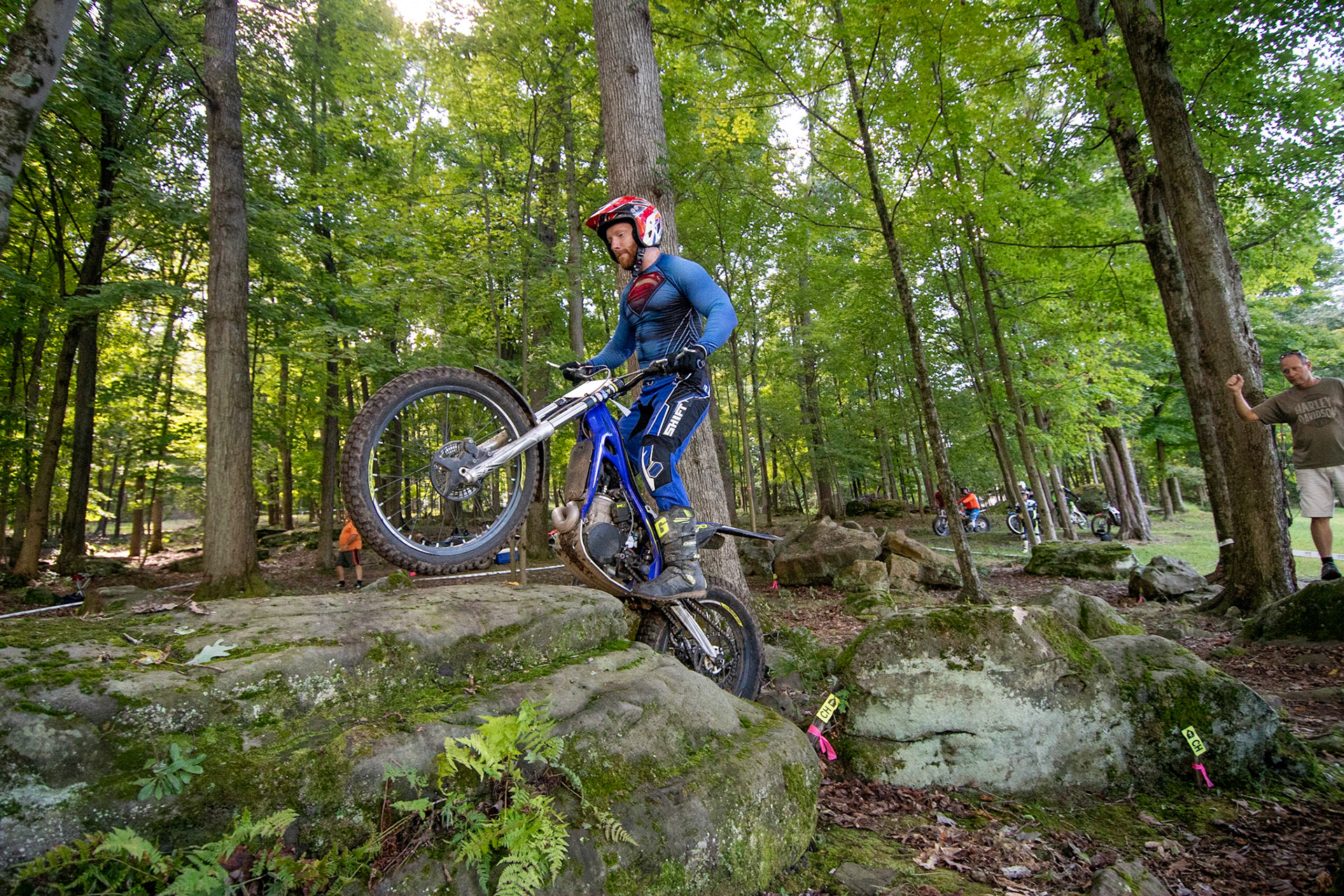 As per another tradition, current TI President and past minder for several different Pro-level riders, Adam Blumhorst hosted a trials school the Monday directly following the event weekend. Because many companies and schools give this as a day off, people hang around after the event to get some personalized 1-on-1 training with Adam. This year, however, Adam was joined by Laura Peters, skilled Beta rider, to teach novice and intermediate skills. The group was split into two groups; youth and novice/intermediate level riders went with Adam and Laura to work on basic skills. Those of higher skill-levels who needed help working on splatters or navigating sections went with Eric Olmstead, TI Expert-level rider and Trials Master of the Toronto, OH event.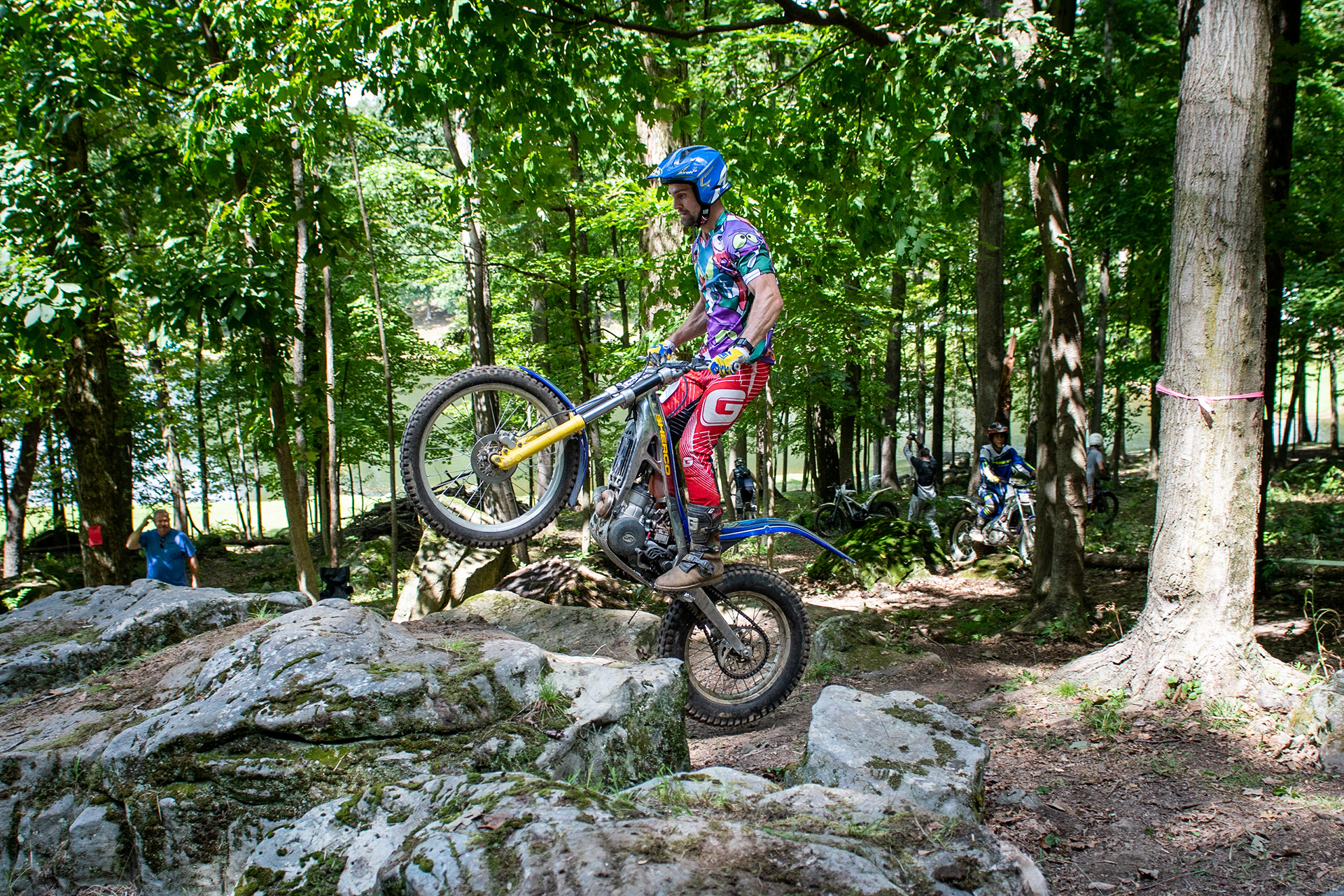 In all, the weather remained sunny and warm, albeit for a few moments of sunshine and rain. The Hanger's continue to be one of the most accomodating hosts to Trials Inc, in their continued support of the trials sport as well as in their compassion and interest in watching the riders compete. Members and friends of the Hanger family will always make the trek out to watch sections and cheer riders on. For that, Trials Inc continues to share its thanks and gratitude for this fantastic event.